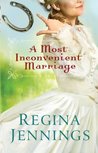 A Most Inconvenient Marriage by Regina Jennings
My rating: 5 of 5 stars
This is the third book I've read by Regina Jennings, and the second one I couldn't put down. The description and cover really intrigued me and I loved the book.
Abigail is a nurse in a confederate prison hospital and her favorite patient "Romeo" is dyeing of gangrene, he's trying to convince thee to marry him before he dies so she can take care of his sister, mom and their horse farm(she grew up raising horses with her dad) he finally convinced her to and tells her his name is Jeremiah Calhoun.
Imagine her surprise when Jeremiah shows up after she's been on his farm for a month or two and he's not the same man. He wants her kicked off the farm for posing as his wife but his mother has come to trust her and thinks there must be a reason for the mistake.
Wait till you find out who "Romeo" was I guessed it right after a bit!
I'd totally recommend this book!!!
Can't wait to see if the next in the series is connected to any of the characters we met in this book!!
I received this book free from netgalley in exchange for my honest review